During March 1945, clearances of prisoners began in the satellite camps and then, at the main camp. Death walks and murderous transports sent the prisoners to "reception camps" at Bergen Belsen, Sandbostel, Wöbbelin. Other prisoners were exterminated at Gardelegen or in the bay of Lübeck, on the Baltic Sea *. There, on May 3rd 1945, ships were deliberately loaded with prisoners and moored in the Bay. There human cargo was unknown to the Allies and these ships were bombed and set on fire. 7000 prisoners tragically died.
More than 15 000 died during these evacuations.
Liberation !
On May 5th, 1945, British troops arrived in Neuengamme and they found an empty camp. The prisoners had been cleared away by the Nazis with the last transport having left on April 29th. The camp was held by British troops until 1948 who used it to continue, among others, civilian officials of the Nazi Party
 * The detainees came from the Kommando" Hannover-Stöcken" (Depending Neuengamme) and Dora camp.
To refer to Kommandos'records  N° 6 & 18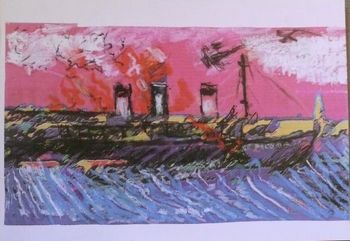 The "Cap Arcona" burning in Lübeck's Bay
Dessin de Pierre Fertil, Mle 40322 © AANG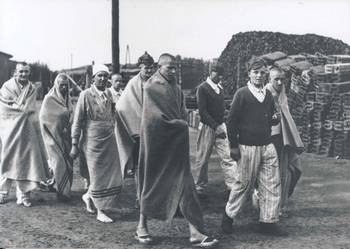 Deportees released from Kommando Sandbostel
© AKZNG