In the past on  1948 : First pilgrimage to Neuengamme and the kommando of Watenstedt
Pilgrimages take place every year, sometimes several times a year in the early days.
The pilgrimages were organized successively by Noël Carlotti, Edgar Boudoux, Raymond Dutheil, Georges Bonnet, Eugène Le Caignec, Robert Pinçon and Franck Holle.
Currently, they are organized by Françoise Marchelidon, assisted by Jacqueline Gicquel and, in Germany, by Dominique Bohère.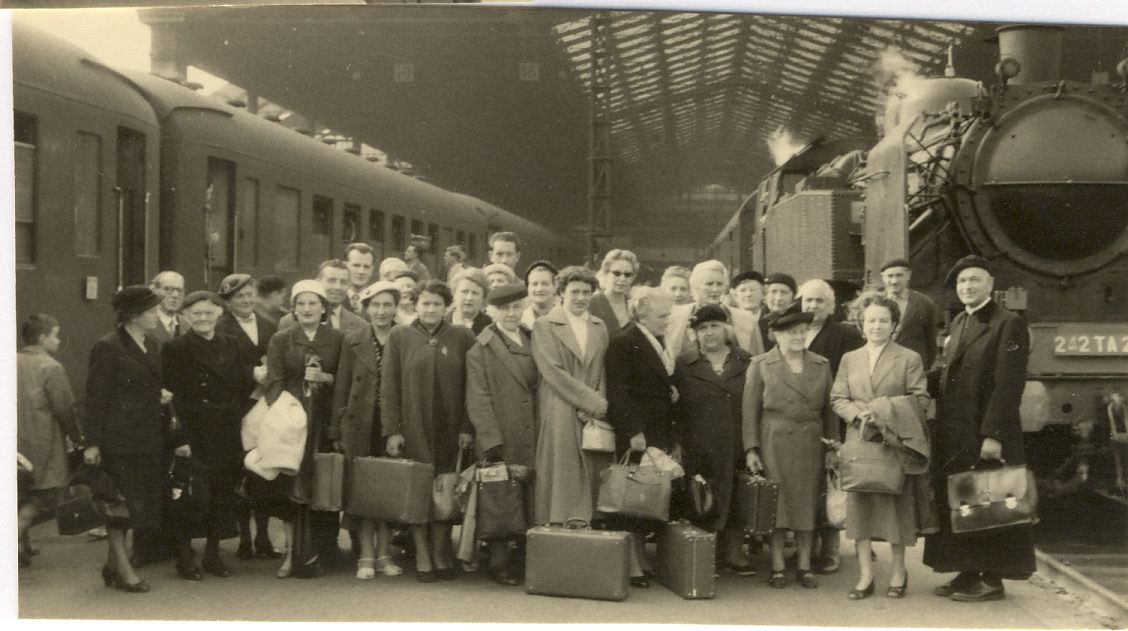 Pilgrimage 1956: participants departing from the Gare du Nord station in Paris.
On the right, Abbot Carlotti (Mle 34316, Kommando de Watenstedt)
Deportees, families, teachers, students go to several kommandos and collect themselves at places of disappearance and burial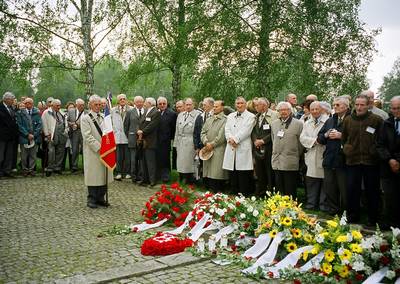 MAY 2005 – Inauguration of the restructured Neuengamme camp
On 4 May 2005, 380 French citizens, 56 of whom were deported, were present at the Place d'appel. They attend ceremonies organized by the Senate of the Hamburg Free and Hanseatic City. The afternoon is dedicated to the visit of the new exhibitions. At the end of the day, they go to the crematorium's location to pay tribute to all the missing deportees at the Camp and in the Kommandos or during the evacuations.
On Tuesday, May 3, French and Belgians took part in ceremonies in tribute to the disappeared in the tragedy of Lübeck Bay, two boats went to the very site of the shipwreck to launch flowers at the sea.
Le jeudi 5 mai, six circuits étaient organisés pour se rendre dans différents Kommandos (Wilhelmshaven, Brême, Hannovre, Braunschweig, Husum, Kaltenkirchen) et dans les hauts-lieux de la Déportation (Sandbostel, cimetières de Osterholz et de Jammertal).
Mai 2007 – Camp site moves from the Ministry of Justice to the Ministry of Culture
During the pilgrimage, on Saturday, May 19, 2007, an official ceremony organized by the Amicale Internationale de Neuengamme marks this change of guardianship. On the same day, the opening of a ice pan on the grounds released by the demolition of the last prison took place at the site of exploitation.
A watchtower and wall used as a support for an exhibition were preserved as witnesses to the prison occupation.
.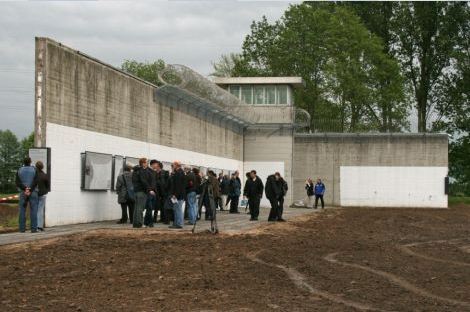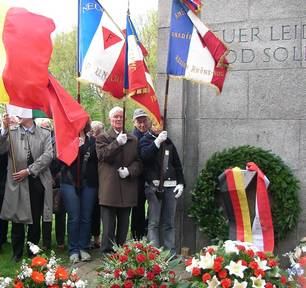 Pilgrimage 2010 in Neuengamme. Flags of the French Amicale during the ceremony at the Memorial. © AANG
May 2010 – 65th anniversary of the liberation of camps
From 30 April to 4 May 2010, 75 people, including six deportees, take part in the numerous ceremonies at the sites of the Central Camp and Kommandos of the Bremen regions, Salzgitter-Braunschweig and Hanover, as well as at the evacuation sites: Bergen-Belsen, Sandbostel and Lübeck Bay.
A reception of all the participants is organized at the headquarters of the Parliament of the City of Hamburg and on Tuesday, 4 May, the commemorative ceremonies take place at the site of the Central Camp, in the presence of numerous personalities.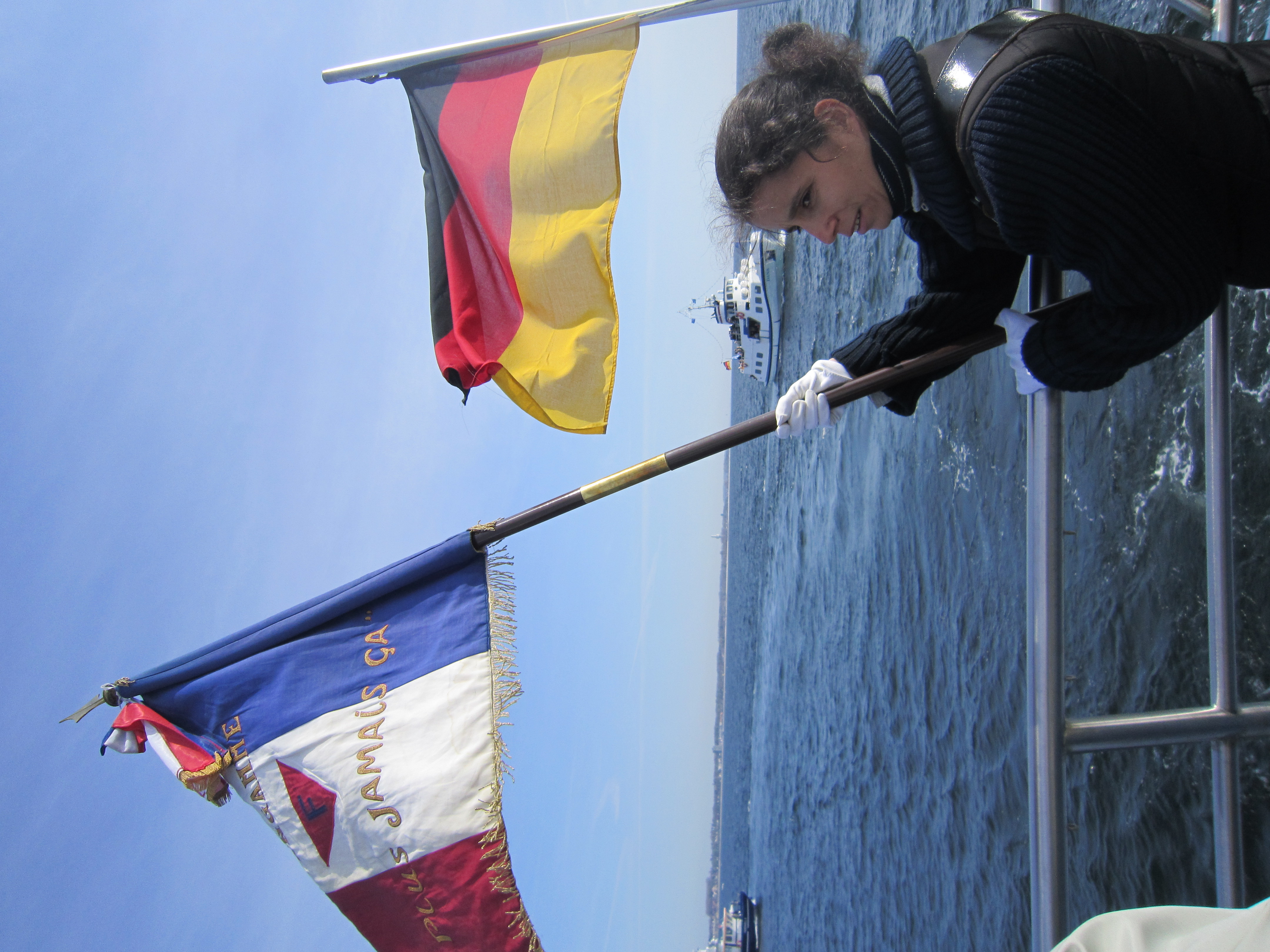 Pilgrimage 2015 to Neuengamme. The flag of the Amicale française during the ceremony in the Bay of Lübeck, May 02. © AANG
May 2015 – 70th anniversary of the liberation of camps
From 01 May to 05 May 2010, 113 people, including seven deportees, took part in the numerous ceremonies at the sites of the central camp and the Kommandos of the regions of Bremen, Salzgitter-Braunschweig and Hanover, as well as at the evacuation sites: Bergen- Belsen, Sandbostel and the Bay of Lübeck. On Tuesday 03 May, the commemorative ceremonies will take place on the site of the Central Camp, in the presence of all the participants and many personalities from the Parliament of the City of Hamburg